*Result may differ depending on customer's skin type and texture.
Fotona QX Max

The Highest Performance Single-Pulse Q-Switched Laser
Fotona's QX MAX system is the most advanced Q-switched laser on the market today. It has the power to remove all common pigmented lesions and a broad spectrum of tattoo colors, and additionally offers the ability to provide FRAC3® aesthetic treatments. The QX MAX is built for maximum performance with patented, state-of-the-art innovations to make treatments safer and more effective.


High Performance Aesthetic Treatments

The QX MAX's high-energy, single-pulse technology is vastly more efficient at removing pigments than multi-pulse lasers that generate equivalently high energies. With 5 ns pulses of up to 1.6 J energy, the QX MAX's single-pulse Q-switched technology generates larger spot sizes that remain effective with deeper lying pigments.

Single pulses are not affected by the optical shielding phenomenon arising from pigment destruction, therefore, more and deeper lying pigments can be targeted and removed, and treatment efficacy and efficiency in a single session are thus maximized. The use of larger spot sizes also requires less fluence to be effective, reducing the risk of unwanted side effects such as tissue damage, and textural changes.

The QX MAX's Nd:YAG laser provides the ideal platform for initiating wavelength conversions to create a true multi-wavelength pigment removal solution. The QX MAX offers four treatment wavelengths in a single system:

- 1064 nm Nd:YAG to treat and remove dark pigments

- 532 nm KTP for lighter pigments, vascular lesions and red, tan, purple and orange tattoo inks

- 650 nm dye for green tattoo inks

- 585 nm dye for sky blue inks and vascular lesions

Reduced pigmentation




Vascular reduction




Tattoo removal of all color ink

Call us for a

free

consultation:

+852.2808.0899
Powered by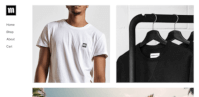 Create your own unique website with customizable templates.